1969-1972 Mazda R130 Coupe / Luce Rotary Coupe
From Rotary Engine Wiki
<google uid="C01"></google>
Launch of the Luce Rotary Coupe, "Lord of the Road"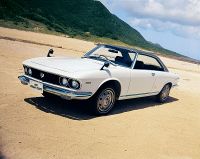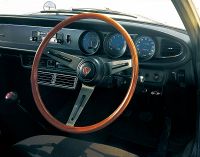 Production Period: 1969-1972
The R130 coupè was Mazda's only production front-wheel-drive vehicle fitted with a rotary engine, and sold on the Japanese domestic market. It was also the only Mazda fitted with a very rare 13A engine. Based on Mazda's RX-87 prototype, the R130 featured the Italian inspired lines in vogue at the time, making it an attractive-looking machine with performance to match. The twin-rotor 13A produced 93kW at 6000rpm in the R130 and was driven through a four-speed transmission capable of 190kph top speed.
The hardtop coupe version of the Luce with a 655 cc x 2 new rotary engine, known as the Luce Rotary Coupe, was launched three years later in October 1969. Mazda used the compactness of the new rotary engine-which delivered 126 PS maximum power and accelerated the car to 190 km/h maximum speed-for the first time here in a front-engine front-wheel drive format. In an age when new company employees straight from university earned around 30,000 yen a month, the Luce Rotary Coupe, costing from 1.45 to 1.75 million yen, was dubbed "Lord of the Road" and boasted a beautiful body and high speed drive. The car was shown not only at auto dealers but also 35 major department stores throughout Japan, and gained a reputation for its elegant form. With its distinctive personality, the Luce Rotary Coupe entered the luxury personal car market that was being formed at the time.
<google uid="C01"></google>