1973 Corvette Rotary Concept
From Rotary Engine Wiki
<google uid="C01"></google>
The Rotary Engined Chevrolet Corvettes
In 1970, Chevrolet obtained a license for the Wankel RE from NSU and began building a two-rotor and a four-rotor Corvette [1, 2]. A fiberglass model is approved in June 1971 by GM Pres. Ed Cole [4].
On Jan. 14, 1972, a chassis was shipped to Pininfarina, Turin, Italy so that the body could be constructed by the famed design studio [4]. In June of the same year, a 2 rotor Corvette with a steel body was viewed by GM management [4, 5]. The same year GM commissioned a two-rotor version of the XP-882 and built it as the XP-987GT [2].
In January 1973, a Corvette body was built for an experiment four-rotor car [4]. By April, the GALCIT wind tunnel in California was used to test the aerodynamic qualities of the 4-rotor Corvette [4]. In September 13, 1973 a 266 ci two-rotor Corvette was shown in Frankfurt, Germany [1, 3]. The four-rotor 390 ci Corvette was shown at Paris, France on Oct. 4, 1973, as well as the two-rotor [1].
On September 24, 1974, GM Pres. Ed Cole postponed the introduction of the Wankel engine, ostensibly due to emissions difficulties [6]. He retired the same month.
Note: The Idaho Corvette copied the above information verbatim from this site, without my permission. Draw your own conclusions about such behavior.
The 74 Chevy Vega was originally planned for a rotary engine. This was delayed to 1975, but this was dropped in 1974. The engine was a two rotor water cooled with oil cooling of the rotors. There was a single spark plug per rotor. The housings were all iron.
A GM rotary was going to be used for the American Motors Pacer. This allowed a flattened hood and radical styling. References
From Ken Polsson's Chronology of Events in the History of Chevrolet Corvettes.
1 Richard Nichols, "Corvette - 1953 to Present", 1985.
2 Terry Jackson, "Corvette - America's Supercar", 1990, pg. 90.
3 Road & Track, Dec. 1973, v. 25, n. 4, pg. 34.
4 Motor Trend, Nov. 1973, v. 25, n. 11, pg. 57, 60, 62, 64.
5 Motor Trend, Dec. 1973, v. 25, n. 12, pg. 39.
6 Motor Trend, Mar. 1975, v. 29, n. 3, pg. 53.
The DeLorean that never was
http://www.telegraph.co.uk/motoring/main.jhtml?view=DETAILS&grid=A1&xml=/motoring/2006/09/30/mfvette30.xml
Last Updated: 12:01am BST 30/09/2006
Martin Buckley tells the story of a unique rotary-engined Corvette that was rescued from the roof of an office building in Luton
Unlike the ill-fated EV1 electric car (not to mention the Sequel, the latest and indeed rather late hydrogen fuel-cell vehicle featured in these pages last week), the story of General Motors' adventure in the world of rotary Wankel engines will never spawn a conspiracy movie. Who Killed the Rotary Corvette? would be unlikely to attract an audience of concerned environmentalists, but it's a fascinating tale none the less. Corvette
Untold millions of dollars were spent developing the smooth, compact power units that made their debut in a pair of exotic, mid-engined, Corvette-badged show cars in 1973. They seemed to point to the future but, behind the scenes, GM's engineers were struggling with a technology that was too dirty for the latest emissions regulations and no less thirsty than the gas-guzzling V8 it was intended to replace.
So, after their show debuts, General Motors effectively buried the two-rotor and four-rotor Corvettes and hoped the world would forget about them. As most people did. But not an Englishman called Tom Falconer.
As a young man in the early 1970s, having recently bought his first Corvette from Eric Burdon of the Animals, Tom had drooled over the unique two-rotor Corvette on its British motor show debut at Earl's Court, with no inkling that a decade later he would own that very car.
The story began with a strange phone call from Tom's friend, Geoff Lawson, the late Jaguar design chief, who in 1982 was head of styling at Bedford Trucks in Luton.
"I knew him because he had a lovely 427 big-block Corvette," says Tom, who by that time had already written the first of many Corvette history books and was running a Corvette restoration business in Newcastle. "He rang to tell me that the next day they were going to crush a Corvette that had been stored on the roof of his 10-storey building - they needed the space to build new offices - and to ask whether I wanted the bale as a coffee table."
When Lawson let slip that the car had a steel body, Tom instantly knew that this was no ordinary Corvette but the mythical two-rotor show car, supposedly lost in a fire in California in 1977.
Styled by GM but hand-built by Pininfarina in six months, XP 978GT was based on a shortened and widened Porsche 914/6 chassis. Significantly, the engine and gearbox were missing; when the car was due to be returned to Detroit, GM bean counters had them removed to reduce the not insignificant import duty liability of a prototype that had cost $3 million to produce. Then, for reasons unknown, it was decreed that the car should be left in the UK and quietly forgotten.
Having begged Lawson not to crush the car straight away, Tom rang the head of GM styling, Chuck Jordan - who he had come to know while writing a book about the Cadillac Seville - and a meeting was arranged at the GM Tech Centre in Detroit to discuss the future of the orphan prototype. "The meeting was one of these 6am coffee-and-doughnuts-type deals where all the executives try to outdo each other by arriving as early as possible. We sat in this fabulous corner office designed for Bill Mitchell, with laminated hardwood furniture made by the prototype craftsmen."
Jordan soon explained the reason for the two-rotor Corvette's death sentence: it was a shameful embarrassment, a painful reminder of the expensive Wankel interlude and an ideological dead end; no Corvette, as far as he was concerned, would ever have a steel body or a mid-mounted engine.
Tom pleaded for the car's life and convinced Jordan that he should be allowed to take it into protective custody. "So a few weeks later I went down with my Citroën Safari and a trailer," he says. "I went into this enormous lift that would have taken a truck. When it spilt me out at the top I saw this big crate, in which the car had been standing for 10 years. It was absolutely perfect. It even smelt new inside." Corvette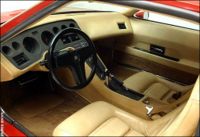 With the Corvette back in Newcastle, Tom set about fitting it with a conventional, four-cylinder Vauxhall Cavalier engine and automatic gearbox, just to get it mobile. "It went in beautifully," he recalls, "but we couldn't do much about the fact that the exhaust came out next to the fuel tank. On the first six-mile road test, the fuel started boiling in the tank, which was a little alarming."
At least the Porsche chassis made it easy to refurbish the brake and suspension components, and today the car sits proudly on display in Tom's showroom in the quiet town of Snodland, Kent. Since 1997 it has been fitted with a Mazda 13B rotary unit (much more in the spirit of the original concept) matched to a Cadillac front-wheel drive automatic gearbox so that everything lines up. With a respray in its original Candy Apple red (the paint in the door shuts is original), Tom "relaunched" the two-rotor at the National Corvette Restorers' Society Flight 2000 event six years ago. "I quite often get Americans coming in wanting to see it; they can't believe it's here," he says.
He has been offered an original two-rotor Corvette engine - the four-litre GMCRE2 - that recently turned up in the States, but he's not sure he has the heart to pull out the Mazda engine and go through all the hassle again. He has, however, offered the owner of the GMCRE2 first refusal if he ever decides to sell the car.
"It's so valuable that I don't use it a great deal," he says. "In fact, the only person who ever did was John Z DeLorean. He loved it. It was his project. Allegedly, when he left GM he tried to buy the rights to the two-rotor; it was the car he wanted to build. But he did the DeLorean DMC-12 instead…"
<google uid="C01"></google>