1974-1976 Mazda Parkway Rotary 26
From Rotary Engine Wiki
<google uid="C01"></google>
Production Period: 1974-1976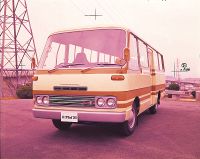 Believe it or not, Mazda's rotary engine even found its way into a bus in factory form - the Parkway Rotary 26. The bus came onto the market in 1974 and was powered by Mazda's new 13B engine, which developed 99kW at 6500rpm. Weighing in at almost three tonnes, the Parkway offered a cruising speed of 120kph and was avaliable in two models - the Deluxe 26-seat version and the Super Deluxe 13-seat versions, both driven through four-speed transmissions.
On April 17, 1972, in response to a demand for upscale minibuses, Mazda launched a fully redesigned minibus dubbed the Parkway 26. Based on the outstanding Titan truck of the period, the bus featured rigid suspension, a range of powerful engines and exceptional economy and reliability as well as safety.
The Parkway 26 had the longest wheelbase in its class at 3,285 mm, a wide tread and stabilizers, and its suspension was given optimal spring rates. The engine lineup included a 2.0-liter unit that boosted maximum power from the previous 81 PS to 92 PS. Two diesel engines were also available: a 2.5-liter unit with 77 PS maximum power, and a 2.7-liter version delivering 81 PS maximum power. In addition to modern styling similar to passenger cars of the day and comfortable accommodation for 26 passengers, the interior featured a radio and a powerful heating system with 3-stage switching, soft ceiling trim and other refinements that created a spacious, premium ambience.
On July 22, 1974, Mazda introduced the world's first low-emission, rotary engine (13B) minibus, the Parkway Rotary 26. This bus had the exceptional performance and quietness of a rotary vehicle, as well as outstanding environmental efficiency for its day, which cleared Japan's exhaust gas emissions standards at the time by a wide margin.
<google uid="C01"></google>