Mazda REPU
From Rotary Engine Wiki
<google uid="C01"></google>
Mazda Rotary Pickup
Manufacturer Mazda
Production 1974-1977
Class Compact pickup truck
Body style(s) 2-door truck
Engine(s) 1.3 L 13B
Related Mazda B-Series
Ford Courier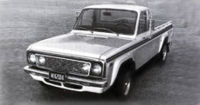 The Rotary Pickup (REPU) from Mazda was the world's first and only Wankel engined pickup truck. It was sold from 1974 to 1977 and appears to have been available only in the United States and Canada. Toyo Kogyo (Mazda) made trucks for Ford in the Courier as well as its own Mazda B-Series. These trucks shared many of the same parts, but the Rotary Engined Pickup (REPU) had a 4-port 13B 4-barrel carbureted engine, flared fenders, a different dash, front grille, and round taillights.
This unusual vehicle was originally designed to respond to demands from the North American market. The Mazda Rotary Pickup was the world's first utility vehicle powered by a Wankel engine. Apart from its dynamic performance, this compact truck provided the best combination between outstanding durability and lightness.
The Mazda Rotary Pickup was exclusively exported to the United States and no counterpart was available in the domestic market. In terms of the exterior design, the vehicle sported massive wheel/tire combinations under over-sized and curvaceous fender flairs, hinting at the high-performance potential underneath. The overall boxy design and large rearview mirrors intimated that it was exclusively destined for the North American market.
It is estimated that just over 15,000 total units were built. Most were made for the 1974 model year, due to the energy crisis putting a damper on sales, Mazda restamped many of the 1974 models with a prefix "S" designating it as a "1975" model. Approximately 700 units were built for the 1976 model year. Mazda invested in a moderate redesign for the 1977 model, updating electrical systems, adding an additional 4 in cab stretch for more comfort, and adding a 5-speed manual transmission with different differential gearing. However, after about 3,000 units, the REPU was discontinued due to poor sales.
Road & Track magazine was impressed with the "smooth, quiet power" and the "nice" interior. Price at the time was about US$3500, and observed fuel economy was 16.5 mpg.
Most of the trucks are found on the west coast of the US, and they continue to be sought out by enthusiasts.
Racing
Like many of the other Mazda rotary vehicles, the REPU was raced. Its most notable finish was an overall victory at the 1975 SCCA Mojave 24 Hour Rally at the hands of drivers Malcolm Smith and Jack Sreenan.
See Also
References
Mazda.com History of Rotary
Road & Track magazine, July 1974
<google uid="C01"></google>