Mazda Taiki Concept
From Rotary Engine Wiki
<google uid="C01"></google>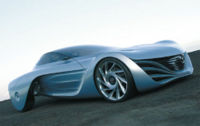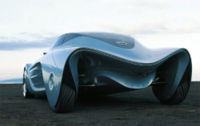 Mazda Taiki Concept
That the Mazda Taiki concept car is only half as weird as many of the other concepts at the 2007 Tokyo Auto Show gives you some sense of how profoundly strange this show can be. After all, this is a vehicle that Mazda says was inspired by koinobori, which translates as "climbing carp streamers." Ford's Japanese subsidiary says it "reflects one possible direction for a future generation of Mazda sports cars aimed at helping create a sustainable society."
The fourth and latest iteration in the company's ongoing Nagare design series, the Taiki borrows its name from the Japanese word for "atmosphere." The design intent has been to create the visual impression of air flowing through a tube. (And here we had interpreted it as giving the impression of climbing carp streamers; shows what we know.)
The two-seater concept is a stretched coupe on a front-engine, rear-drive chassis configuration, with short overhangs and an all-glass canopy. Power is supplied by a next-generation rotary engine. Mazda, the only automaker to use a rotary engine, is adamant about keeping it alive, with future iterations that get better fuel economy. The company has also shown hydrogen-fueled rotary motors.
<google uid="C01"></google>